About Natasha Chernavska
---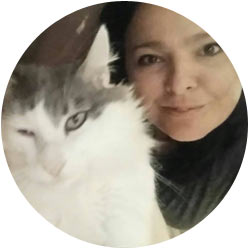 Hello and welcome! My name is Natasha and I'm a Sr. UX architect/designer in South California. I specialize in creating logically structured and intuitive user processes and clean and modern designs.
I have been a UX/UI designer for over 20 years and have worked in various industries such as Finance, Insurance, Automotive, Education, Entertainment, Retail. But my background is actually in journalism. I have attended Moscow State University, studied radio journalism, and for several years have worked as an on-air host and a reporter.
Key reporter skill is collecting and analyzing data, so it definitely helps me when I have to do business and user research. I make an effort to go extra mile in collecting as much data as possible to create effective user experience. It's about understanding how user thinks and what goals they want to accomplish for themselves, so I do my best to help them do it with ease and pleasure. Marrying business and user goals – is a path to creating a great product.
I believe that one of my best skills in information and UX architecture. I like to think that I am good at collecting requirements, strategic planning, and creating effective user processes. One of my specialties is bringing dysfunctional, unusable applications back to live.
Years of working in different companies, cultures, and environments taught me to stay humble and listen. I respect everyone around me, and believe that there is something to learn in any situation. I strive to constantly develop myself professionally and personally.
When I am not working as a designer, I like to travel, play guitar, sing, and be around my friends. One of my hobbies is clothing and jewelry design.